Refrigeration
As summer grows hotter and hotter the importance of keeping your refrigerator in working order becomes more important than ever. Without a working fridge, your food will quickly spoil and you'll find yourself out a great deal of money. Don't let that happen. Let Noron provide you with repairs for your current refrigerator unit. Whatever you need, we are ready to meet all of your refrigeration needs!
Why is Refrigeration Important?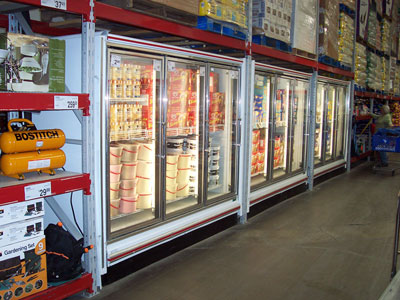 Whether you're a business owner or just an individual, there is always a need for refrigerators. Luckily, Noron is prepared to work on any refrigerators that your business could possibly have. From walk-ins to ice machines, our skilled technicians are prepared to see to it that your investment in food is not wasted.
For a restaurant, losing their frozen food is nothing short of a catastrophe. This often means hundreds of dollars wasted in spoiled food, and the financial suffering does not end there. Without food to sell, a restaurant will no longer be able to conduct their business. This means no revenue from sales, and the lack of business one day can easily turn away some customers for life. In short, a malfunctioned fridge or cooler that is not quickly repaired can do permanent harm to a business! A broken walk-in certainly needs to be repaired, then. But why choose Noron?
The Noron Difference
We have been working in the Northwest Ohio and Southwest Michigan area since 1981 and have grown quite the reputation in that time. Most of our business, 95% actually, comes from repeat customers. There wouldn't be repeat customers if we didn't provide them with excellent service the first time! Another advantage to trusting Noron to repair your refrigerator is that we are open 24 hours a day, 365 days a year. Whenever you need us, you can be sure that we'll be there. We are passionate about the work that we do and about providing quality service to the Toledo OH area, and we want to be there for you in your time of need. We charge fair, honest prices and strive to fulfill all the HVAC-related needs of our community. Let us make a difference in your life today.
Contact Us Immediately
If your refrigerator unit isn't working don't wait until the problem has already destroyed all of your food or driven away your business. Contact us today. We are waiting by the phone to hear your issue and make sure that we get you the care you need as soon as possible. Don't waste money on costly repairs down the line. Noron can help you today.